I've had this information under my hat for weeks -
just haven't found a slot to blog about it yet - so here's
the news quickly :) I applied for the Design Team at
Purple Pumpkin, didn't make it BUT I did get a Guest
Designer slot for one month later in the year - woo hoo!
***Read all about it on the Purple Pumpkin blog HERE***
That means that I will be receiving a pack of
Purple Pumpkin goodness in the post to create
with at some stage & be given the opportunity
to showcase their cute & quirky product!
I submitted these 3 layouts using the very last of
their products that I had left and I am currently
awaiting my next order. Can't wait!!
The hearts, tickets, flower & spotty button are all
Purple Pumpkin.
Here just the gorgeous big lace flower is from
Purple Pumpkin.
Here the doilies, denim flower, vinyl cog and denim/polka
dot flower are ALL Purple Pumpkin.
-------------------------------------------------------------
I was also featured over at C'est Magnifique blog for
their April Sketch challenge, which you can see on
their blog
HERE
, as one of their top 5 projects
(which are not in any particular order) - the winner
of which was chosen by random draw.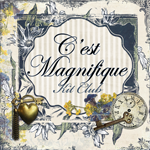 This is the layout I submitted!
Okay so that's the news finally...
I am happy to report that I have succeeded in
reverting to the old Blogger interface, although
I also note that they say that they will be doing
away with it within the next month so I am only
delaying the inevitable :(
I am not one who is averse to change.
I believe that "Change is Good" but obviously
for the better! In this case I am not so sure...